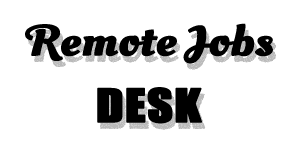 October 6, 2020 – With platforms like Remote Jobs Desk, prospective employers never have to worry about distance when choosing to work with certain talents or service providers. On the flip side, qualified job seekers can secure desired roles irrespective of their locations and execute them from anywhere. The platform allows qualified candidates to apply for a number of full-time jobs and work them remotely. 
Currently, Remote Jobs Desk allows prospective employers to choose from a plethora of qualified job seekers in the following categories: Software development. Design, Backend, Frontend, Backend, Customer Support, and Marketing. Job seekers are required to send in their CVs and resumes while applying for any job on the platform. Job offers on Remote Jobs Desk are sent in from companies all across the globe. 
At Remote Jobs Desk, both hiring managers from top companies and small business owners benefit from using the platform. Small business owners who are unable to afford full-time employees will find adequate support from qualified job seekers who surf through Remote Jobs Desk. Big companies looking to hire specialists or provide support to fulltime employers can also have a field day on Remote Jobs Desk.
Platforms like Remote Jobs Desk remind the world why the internet is so relevant. Using the platform, businesses have increased their productivity and have taken the opportunity to enjoy the benefits of a diverse list of employees. Without any pressure to provide a workspace for whichever professionals they do hire, employers are saving valuable money from hiring remotely. Conversely, without any need to travel long or short distances to work, candidates who do get hired can stay stress-free and focus on delivering quality in a timely fashion.
With the need to follow strict COVID-19 regulations, remote jobs and workers are in high demand. Businesses are looking to protect their employees from the effects of the coronavirus, and company executives have realized that staff does not have to come into the office every day to be productive. And with Remote Jobs Desk allowing these companies to widen their search perimeter for the perfect employee, hiring managers have expressed delight at being able to hire the best of the best.
Remote Jobs Desk invites qualified professionals that are looking to gain fulltime employment remotely to take advantage of its structure and send in their applications. Many employers have lauded Remote Jobs Desk for helping them find hirable professionals. In this regard, the team also invites hiring managers to list vacant roles on the platform.
Although they will not be the first to anchor a recruitment platform, the team at Remote Jobs Desk is doing it differently. With a few innovative features from the platform, hiring managers can attract top talents to their companies. Using the "sticky post" feature allows users to stick their job listing to the top of the homepage. This gives them more exposure and a better chance of hiring their desired candidate. For a little extra fee, users may attach their logos to their job post, highlight their posts in yellow or opt for their company's color scheme.
Remote Jobs Desk is also glad to announce that it is an advocate for equal opportunity to every candidate on its platform. The agency has a 24/7 customer support team to help site users through any challenge.
For more information, use the media contact outlets below.
Media Contact
Company Name: Remote Jobs Desk
Contact Person: Media Relations
Email: Send Email
Country: United States
Website: https://remotejobsdesk.com/