The 2020 edition of the Bermuda Job Market Employment Briefs publication from the Department of Statistics has been released.
Minister for the Cabinet Office Wayne Furbert said, "The Employment Briefs provides a broad count of all filled jobs in the Bermuda labour market by selected demographics, industrial and occupational groups.
"They examined employment changes between the years 2018 and 2019. The creation of 523 more jobs in Bermuda in 2019 is the highest measured increase in jobs in 13 years. This report also shows that median incomes increased more than the rate of inflation.
"For the first time, the median gross annual income data in this edition of The Employment Briefs represent the gross annual incomes of all job holders and is not restricted to the incomes of job holders in establishments with ten or more employees as reported in previous editions."
A spokesperson said, "The publication shows that the level of employment in the Bermuda economy rose by 523 filled jobs or 1.5% from 33,855 in 2018 to 34,378 in 2019 [See Chart 1 below]. Between 2017 and 2019, total filled jobs rose by 719 positions or 2.1% from 33,659 to 34,378.
Chart extracted from the report: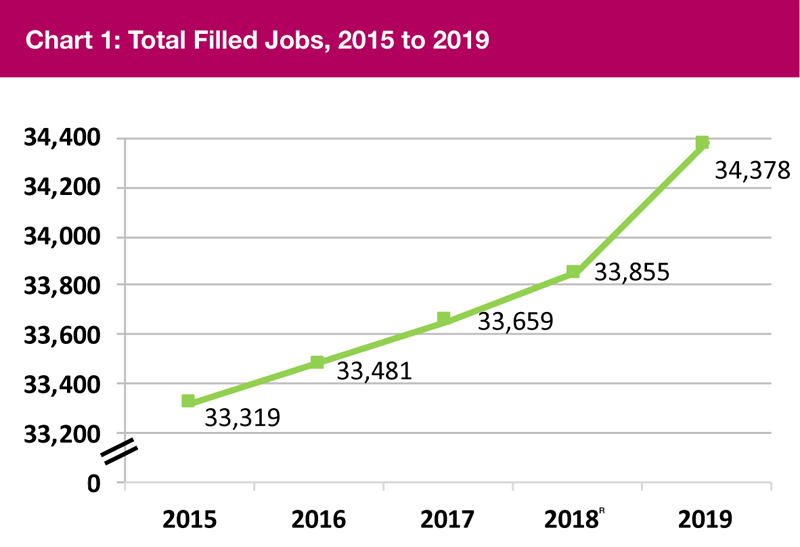 "Within the major divisions of economic activity, the Hotel, Public Administration, and Education, Health & Social Work sectors experienced the strongest employment growth in Bermuda during the year. The job total in the Hotel sector climbed by 151 filled jobs or 6.3%, from 2,383 in 2018 to 2,534 in 2019.
"Over the two-year period 2017 to 2019, filled jobs in the Hotel sector climbed by 337 positions or 15.3% from 2,197 to 2,534. In comparison to 2018, there were 198 more filled Public Administration positions in 2019, up 5.3% from 3,766 jobs to 3,964.
"Between 2017 and 2019, Public Administration positions rose by 270 filled jobs or 7.4% from 3,690 to 3,964. Employment grew by 108 filled jobs or 2.9% in the Education, Health & Social Work sector between 2018 and 2019. Employers in this sector reported 3,725 jobs in 2018 and 3,833 jobs in 2019. There were 126 or 3.4% more filled jobs in the Education, Health & Social Work sector between 2017 and 2019."
With respect to employment income, Minister Furbert said, "The median gross annual income for all job holders climbed by $997 or 1.6% from $61,696 to $62,693 between 2018 and 2019.
"Over the same period, the median gross annual income for Bermudian job holders increased by $1,018 or 1.7% from $59,094 to $60,112. For Permanent Resident Certificate Holders, the median gross annual income rose by $2,102 or 3.3% from $63,429 to $65,531; while the median gross annual income for Other non-Bermudians declined by $970 or 1.3% from $75,557 to $74,587."
"The Employment Briefs are available online. More detailed information on Bermuda's job market can be obtained online from the 2019 Employment Survey Tabulation Set."
The 2020 Employment Brief follows below [PDF here]
The full 2019 Employment Survey Tabulation Set follows below [PDF here]
Read More About
Category: All, News, Politics